Your idea + Koto's technology
= Stunning product in just One stop!
Want to make a new product with an articulating pen?
Want to make English conversation content with an articulation assessing tool?
In addition to our original technology in Digishot® or SeePhony®, we provide also the best solutions to our clients' product planning, based on our long accumulated experience in development and production for renowned toy makers.
Talking Word Book
Technology adopted: OID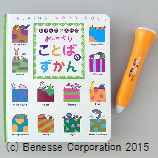 Touching the story book with a speaker-installed pen, readers will hear Talking Word Book reading out its content in both English and Japanese. Talking Word Book is a vocabulary picture book full of songs and quizzes which encourage readers to study with fun. Koto participates in its software planning and development, hardware design and production

Talking Dorry
Technology adopted: OID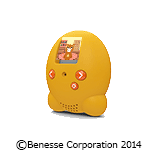 Integrating sound recognition technology within the device, Talking Dorry is an interactive English learning kit for children, with Dorry the bear talking back to children in English! Koto participates in its software planning and development, hardware design and production.

ODM business model:

3 major phases in ODM business model:
1. Product planning phase

Make an enquiry to Koto. Say, "I want to make a picture book with a speaking pen", and our staff will make a hearing in details about what you plan to do. Then we shall propose to you the specifications, approximate costs and schedule needed to achieve your plan which serves as the base for further discussions. Through rounds of discussions, development will start upon agreement.
2.
Development phase

Based on requested specifications and needs of our clients, we would start designing hardware and software and first provide a prototype (non-working) sample for clients to review on hand to decide on its appearance. After approval of the outlook, we shall start tooling making.
After 2 to 3 trials of sample makings and evaluations, we make pre-production samples for clients to approve finally in order to proceed into the production phase.
3. Production phase

Based on the approved specifications, we shall start production with our subcontracted factory. After passing final inspection check implemented by clients, we deliver the products to clients' requested warehouses.
Please do not hesitate to contact us.

We welcome any enquiries from you.