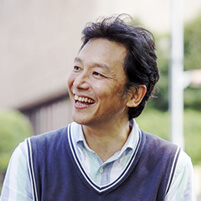 Kazuhiro Kubota
President & CEO
Born in Onomichi city, Hiroshima
A graduate of Osaka University, School of Science

Joined the Semiconductor Operation Unit of NEC Corporation and focused on the development and marketing of graphics chips for personal computers. Profound experience in the field of architecture designs of the Windows-based accelerator, custom-made graphics chips for major game makers, and single chip design for WindowsCE. Also responsible for the planning and development of devices for electronic books.
From his early childhood, he has been a railroad buff. He still keeps saying that he was a Class C11 steam locomotive itself in his previous life.

President and CEO of Koto from 2001.


Koto Co., Ltd. was established in 1996 by GUNPEI YOKOI, a leading game developer in NINTENDO until 1996. He put out a variety of home-entertainment Nintendo products e.g. "Ultra Hand", "Love Tester", "Light Ray Gun SP", "Tenbillion", "Game Watch" and "GAME BOY", ranging from analogue to digital products.

Change adversity to fun just by adding a touch of entertainment here and there, has been the goal of Koto since its establishment. Wouldn't it be a lot more fun and encouraging if a maze game could be incorporated into a walking rehabilitation device? Gunpei Yokoi (deceased) had had all sorts of delighting ideas of the kind and this DNA is totally inherited now without fail.

We believe enjoying our everyday work is the best approach to create amusing products and that is we put up our company motto as "Enjoy your job", making a more fun environment for more fun work.



President & CEO